Classes & Special Programs


​Spring/Summer Classes
To Print/View a complete class schedule, CLICK HERE
Clubs

All new re-imaged embroidery club starting June 2022! For one year we will be offering the Anita's University program, one project/technique a month for 12 months.
Click here for complete details.

Embroidery club open to all makes/models. Sew or Serge Club open to sewing machines and sergers.

​August Embroidery Club
NOTE DATE CHANGE, Aug only
Saturday August 27th, 10:30-12:30
Project: Panda bear towel topper, In the Hoop. Join in our Anita University offering! Call for more info (508)481-2088


August Sew or Serge Club
Saturday 20th, 10:30-12:30
Project: Tic Tac Toe drawstring bag and playing pieces
Technique: Casings and wrapped edges

Call to register today
​ (508)481-2088

Open Sew
Sundays & Wednesdays

Bring your projects, machine and sewing kit and use our classroom to work on your projects with support from our knowledgeable staff. Join for $75 for 2 months or pay as you go at $20 a session. Pick Wednesdays or Sundays, or sign up for both!

---

Wednesdays 10:30-2:30
OR
​Sundays 10:00-2:00



Kids Open Sew
Returns in September
​Tuesdays 3:30-5:30pm

RESUMES IN SEPTEMBER
Open Sew program for students 9yrs and up. Each student works on a project of their choosing and at their own pace under the supervision of our knowledgeable instructor. Students bring their sewing tools and supplies along with a project of their choosing, or pick a project from those available at the shop. They can work on anything from crafting, through quilting and garment construction - yes even prom dresses and cos-play have been completed through the years.

September-June*

*Age waivers on a case by case basis based on the students sewing level. Class time subject to change as the effect of the pandemic continues to evolve.
---
Block of the Month Programs
Block of the Month Programs
Moroccan Sunset 5-month embroidery quilt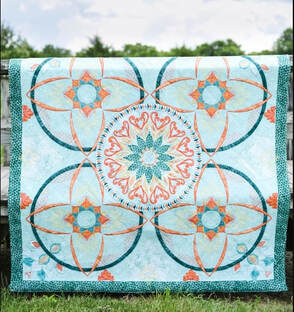 Moroccan Sunset - Sign-up before we fill up
Note Date Change (we haven't finished the sample yet)
Moroccan Sunset is a 5-month Lecture/Demo program
4th Saturday Sept-Oct-Nov-Jan-Feb 10:00-11:00

Come start your journey with us as we make this amazing quilt using our embroidery machines. Each month pick up the next piece of the quilt and learn about the techniques required to finish it. Share with others your experiences, tips and tricks you learned along the way.

Embroidery Design & Battilizer: $265
Tuition: $45 (applied to future purchase when completed quilt is brought in) includes all 5 classes
Monthly Fabric Kit: $20


---